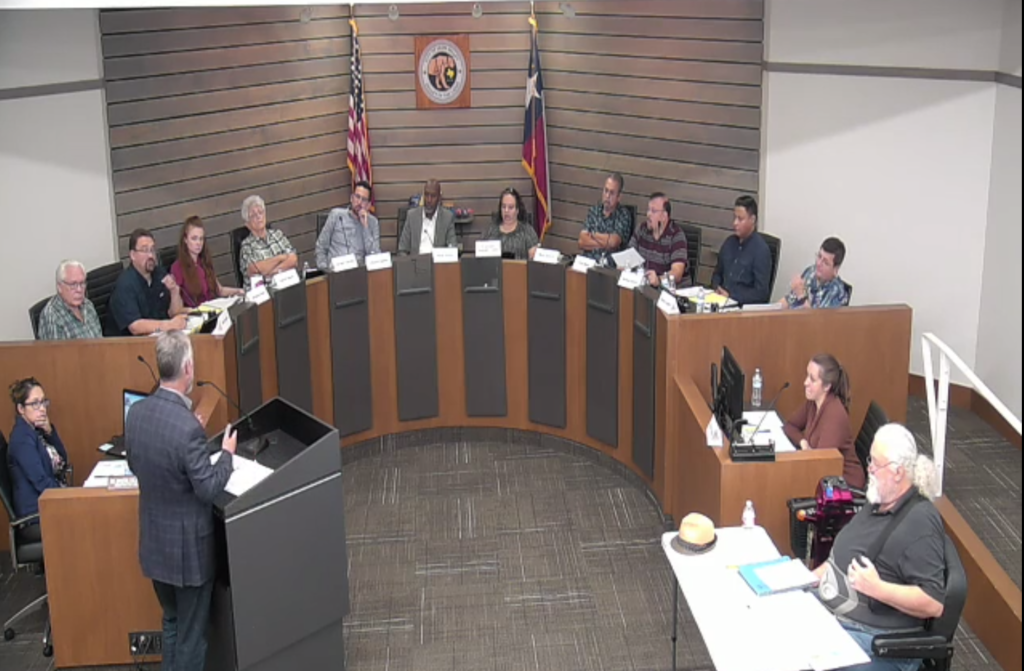 Charter review today involved a lot of discussion, which should set us up for future success and agreements. Minutes from last meeting were in need of revision, so we postponed accepting them. We adopted our committee procedures, based on the City Council's.
We decided what an affirmative vote would be: 7. not a simple majority, but 7, regardless of quorum size (7 to 13). 7 affirmatives will be required to make recommendations. We reviewed Article 1 and decided that we'd streamline the Charter by recommending the removal of redundancies, especially to state law.
We moved our 9/30 meeting to 10/3 due to a conflict with City Council and we were made aware of our timelines by Chairman Jordan.
All in all, I think the committee is beginning to understand each other and make some philosophical agreements on how we can tackle the charter.
Video can be found on the website. As can the agenda and agenda packet (includes documents).
My unofficial notes:
Call to Order at 6:34PM and Announcement of a Quorum
Citizens to be Heard

6:35 open/close (no one wanting to speak)

Consent Agenda

 Notes for Charter Review Committee – Regular Meeting – Sep 16, 2019 6:00 PM

ACTION: Postpone acceptance until updates can be made

Discussion Items

 Discussion and Action on the Adoption of Meeting Conduct and Decorum Guidelines Set Forth in Ordinance No. 2019-48 Adopted by the City of Leon Valley City Council

ACTION:

All references to council/councilor to be changed to Committee/Member
Section 1
1.1. change Citizens to be heard to only "items pertinent to charter review committee"
1.1.1.1 Email change to Crystal Caldera, so that citizens watching live can provide comments.
1.2.1.1 change Citizens to be heard to only "items pertinent to charter review committee"
1.2.3.2, 1.2.3.3 Strike in favor of discretion in managing comment during meetings, due to timing
1.4 In reference to setup for presentations: Strike "ceremonial items and", Strike "at 6:00 PM or"
1.6 Strike whole section. In favor of informal rule that discretion is used for research/ phone conversations are taken out of chambers.
1.7.2 the presiding officer MAY warn about disruptions
Section 2,3,4,5 no changes (other than conversion to Charter review from council)
Section 6,7,8 strike due to unnecessary legal language.

Discussion and Action on Voting Requirements for Recommendation for Charter Amendment to be Placed on the Ballot

ACTION: I motioned to have 7 votes required to make recommendations. So if there is a quorum of 7 or of 13, both need 7 votes to make a recommendation.

Review, Discussion and Action on Proposed Amendments to the Home Rule Charter Articles I Through III

ACTION:

We will have a glossary of terms
I motioned that "The City" be the official reference of Leon Valley (instead of "City) and that it be updated throughout the document. Based on a majority vote of council. VOTE:  Unanimous
The city manager "Has a duty to answer" to city council instead of "shall answer to". VOTE: unanimous
We generally decided to strive to remove redundancies and requested Mr. Zech to review the code for such. Make it easier to read. (Sections 1.02 B&C and 1.03 are likely to be stricken, since 1.02 A is clearer/suffices)
The rest we postponed

Review, Discussion and Action on Proposed Amendments to the Home Rule Charter Articles IV and V

ACTION: Postponed

Review, Discussion and Action on Proposed Amendments to the Home Rule Charter Articles VI Through VIII

ACTION: Postponed

Discussion and Action on Meeting Date Change from September 30, 2019

ACTION: Moved to 10/3 Thursday, due to conflicting Council meeting.

Chairman Announcements

Home rule charter timeline:
– Preference to have it presented at Jan 7th council meeting
– So that it can go to town hall in Jan
– Last day to call election on items is Friday Feb 14th

Adjournment 9:42pm